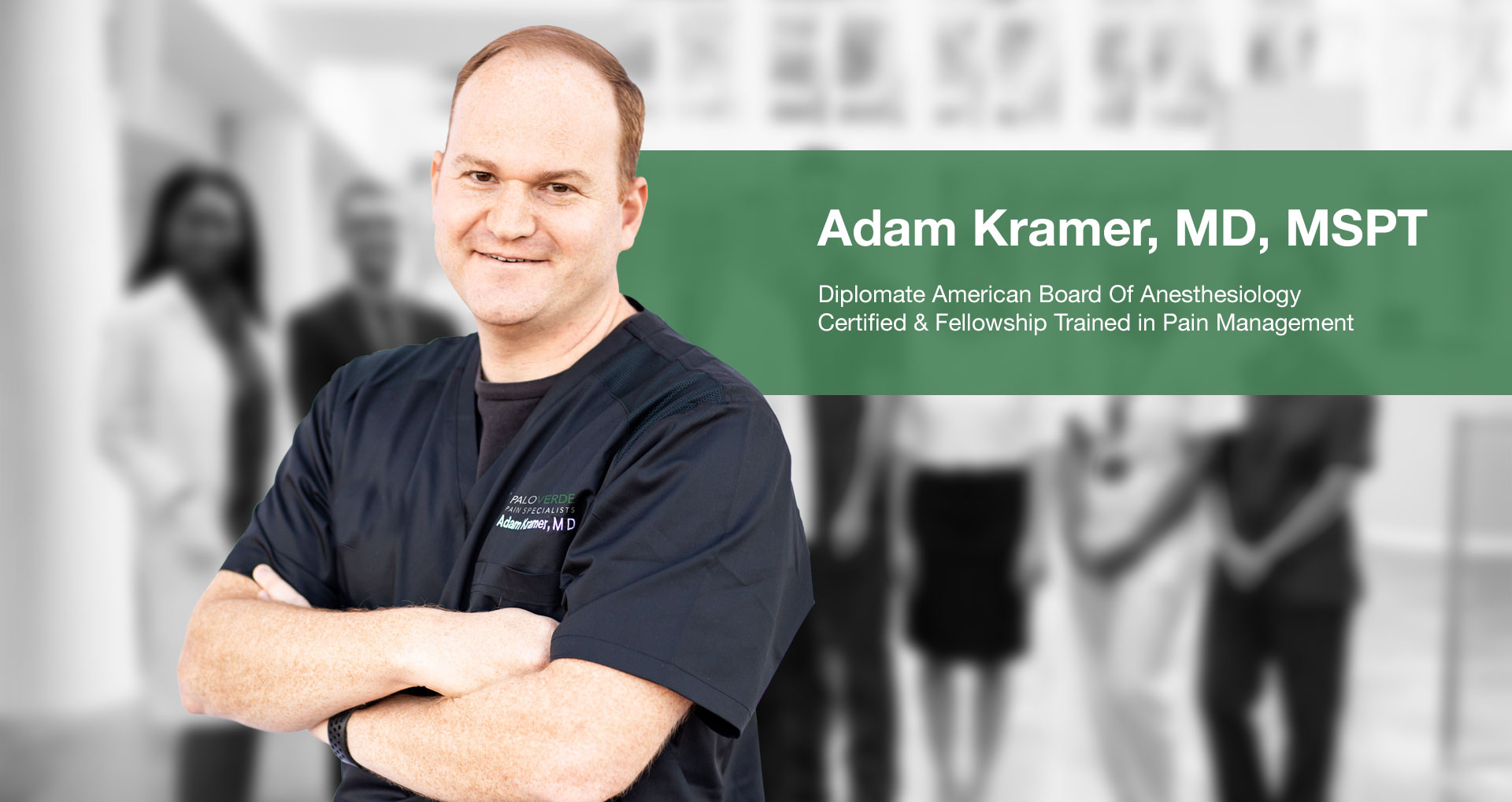 Dr. Adam Kramer, M.D., Is A Double Board-Certified Pain Management Doctor
Serving Glendale, Peoria, Phoenix, Sun City, Sun City West, Surprise, Goodyear, and all of the West Valley.
Dr. Adam Kramer is double board certified in Pain Management and Anesthesiology earned upon completion of his training at the world renowned Cleveland Clinic. In addition, to practicing Interventional Pain Management, he is an experienced physical therapist and athletic trainer having treated orthopedic injuries of all ages including elite collegiate and NFL athletes.
Dr. Kramer's passion for medicine started after a volleyball injury in high school. He dislocated his elbow in the county championship game. After six weeks of physical therapy, he was in awe of the ability of the human body to heal in response to treatment.
Dr. Adam Kramer's professional background provides him a unique, comprehensive perspective and holistic understanding of the physical and emotional effects of pain on the quality of one's life. While at University of Wisconsin, Dr. Kramer was a student athletic trainer for the varsity football team which began his career with elite athletes. After graduation, he received a Master of Science in Physical Therapy and served as an intern and athletic trainer for the Baltimore Ravens. He then worked as a physical therapist/athletic trainer for eight years at Athletico Sports Medicine and Physical Therapy, in part, during his medical training. Dr. Kramer's internship at Rush University Medical Center was in general surgery. He then began his Anesthesiology residency where he was selected Chief Anesthesiology Resident at Rush. Dr. Adam Kramer was awarded a Pain Management Fellowship at the nation's premier hospital, Cleveland Clinic. After completing the fellowship, he joined the Clinic's clinical staff and in addition to treating patients, he had a role in training residents and fellows in pain management. Dr. Kramer then moved to sunny Arizona with his wife and children to work as a staff physician in pain management at Valley Anesthesiology and Pain Consultants. He served as manager of the Pain Division when he decided to start PaloVerde Pain Specialists with the vision of providing superior clinical care with an unparalleled patient experience.